Partial dentures: What are advantages and disadvantages?
Thanks to partial dentures, you no longer have to go around with a gap in your teeth following a tooth extraction! Yet, with so many types of partial dentures out there you may be left scratching your head over the difference between an acrylic removable partial denture and a flexible partial. If you need a partial denture, then which one is the right one for you? Should you need a partial denture and you're not sure what kind you need, talk to your dentist to find the best option for your needs, budget, and the condition of your teeth. Your dentist can recommend the right partial denture for you so you can get on with life as usual.
Types of Removable Partial Dentures
---
There are three basic types of partial dentures. Choosing the right partial denture will often come down to a patient's individual circumstances. Your dental prosthetist will carefully assess your options and overall health to determine your suitability for different types of partial dentures taking into account several factors including:
Appearance
Oral Health and teeth structure
Feel, Grip and Stability
Oral sensitivity and allergic reactions
Financial considerations
Dexterity and control of patient.
Support of remaining teeth
Cast Metal Partial Denture
The cast metal partial denture is one of the more common types of partial denture and provides high-quality replacement teeth on a rigid frame. Fabricated using ultra-thin and light cobalt chromium alloy they offer greater strength and stability and are a good permanent solution that can last many years with proper care.
Advantages
Minimal irritation and discomfort due to the lightweight material used in the fabrication process.
The rigid frame covers less soft tissue in your mouth which improves overall dental health, and increases sensation and taste while eating.
Increased comfort due to an overall better fit as the dentures can be more accurately contoured to your mouth.
A more supportive fit as cast metal dentures often have rest seats or clasps to keep them in place.
Disadvantages
For patients who struggle with the fine motor skills necessary to insert their partial dentures, the metal clasps on cast metal dentures often making inserting them prohibitively difficult.
The alloy used in the fabrication of cast metal dentures is often more expensive than that of an acrylic denture.
The fabrication process of cast metal dentures can take longer compared to different types of partial denture
The metal frame may not be as aesthetically pleasing as the metal clasps may be visible depending on the partial denture location.
Cast metal dentures have the potential to cause allergic reactions in patients with hyposensitivity to the materials used.
Acrylic Partial Denture
Acrylic partial dentures also known as a dental flipper is an all acrylic denture that is often supported by metal clasps. Due to the impact-resistant acrylic that is used in the fabrication process, they can be bulky and uncomfortable for some patients to use long-term. While technological advancements in acrylic plastic dentures have come a long way in making them a potentially viable and permanent solution; They are most often used as an interim or temporary partial denture while waiting on a more permanent solution such as cast metal partial dentures.
Advantages
Cost effective due to the ease of fabrication.
Acrylic dentures allow for easier denture relinesand denture repairs.
Fabrication time of acrylic is faster than that of cast metal or flexible dentures.
Are a perfect temporary solution where cast metal dentures are being fabricated or dental implants are being considered.
Disadvantages
The acrylic base is often weaker and can tend to break which often leads to the acrylic having to be thicker.
The thickness of the acrylic dentures can take extra time to get used to.
Acrylic partial dentures cover a larger portion of the roof of your mouth which may cause gagging and a weakened sense of taste and feeling.
Flexible Partial Denture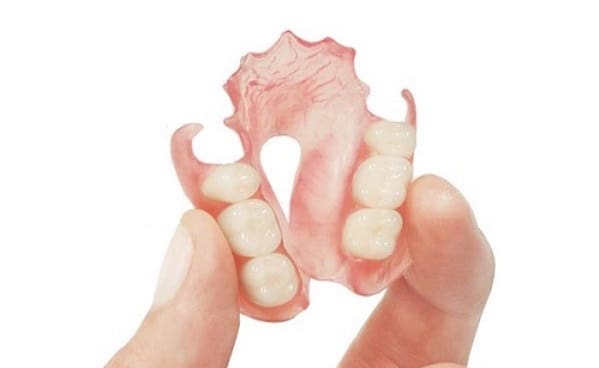 Flexible partial dentures are one of the three different types of partial dentures that are available if you have one or more teeth missing. Often chosen with patients who are allergic to cast metal or acrylic due to their hypoallergenic materials, they can be a comfortable and aesthetically pleasing option. Made from a thin, heat sensitive type of plastic, they are durable enough to wear for many years with proper care and cleaning. However due to their fabrication process, denture relines and denture repairs are much more difficult, and any accidents caused often require the fabrication of new flexible partial dentures.
Advantages
Fabrication time is often faster than that of cast metal dentures and doesn't often require multiple try-ins.
Aesthetically pleasing as the material is clear and your gums are visible through the dentures.
Offer improved comfort as they cling to your gums without the use of any dental adhesive or metal clasps.
Flexible dentures can be fabricated using hypoallergenic materials if patients have allergic reactions to cast metal or acrylic partial dentures.
Flexibility in the denture offers improved strength making them more impact resistant. Caution should always be taken though as the acrylic teeth in the flexible denture are still prone to breaking.
Flexible dentures are odor and stain resistant and are the most biocompatible material of the different types of partial denture
Disadvantages
The flexible base is more prone to bacteria build-up and requires careful cleaning.
Denture relines and denture rebases are difficult and, in most cases, your dental prosthetist will have to redo the partial denture from scratch.
Flexible dentures often come at a higher cost compared to that of a cast metal or acrylic denture.
Limited availability.
Advantages of Partial Removable Dentures
---
Partial dentures offer several benefits. They
make it easier to talk and chew
fill the gap created by missing teeth so you can smile confidently
maintain the shape of your face.
Parts of Partial Removable Dentures
---
So what makes up a removable partial denture? Partial dentures usually consist of replacement teeth that are attached to a metal or a gum-colored plastic base connected with a metal framework. Partials can be used to replace the front, back, upper, and lower teeth. An upper partial denture will go on the top part of your jaw and a lower partial denture on the bottom, but structurally they are similar, except designed to fit in different parts of your mouth. So let's get to know the basic components of a partial denture in more detail.
Major connector.This framework unites all the components of a partial denture and keeps it rigid. The design of the major connector will change depending on your mouth, like where the denture will go and how many natural teeth you have left.
Minor connector.This connects all the components to the major connector.
The rest is a component on a removable partial denture, which rests on a prepared tooth surface. The function of the rest is to distribute the force along the tooth so the denture stays fixed in place.
These metal components allow the denture to resist dislodging forces in your mouth in the vertical direction. Clasps come out of the denture and encircle the neighboring teeth.
Denture base.The base covers the ridge of your mouth where there is a gap between the teeth. It functions as a base that supports denture teeth. For acrylic partial dentures, the base is usually made out of acrylic resin (which has a pink color), but some partials can be made out of metal (chrome cobalt).
Denture teeth.These acrylic or porcelain teeth serve to replace the teeth that are missing in the mouth.
What to expect?
---
In the beginning, your new partial denture may feel awkward or bulky. This is normal, and you will eventually become accustomed to wearing it.
Inserting and removing the partial denture will require some practice.
Follow all instructions given by your dentist. Your denture should fit into place with relative ease. Never force the partial denture into position by biting down. This could bend or break the clasps.
Your dentist will give you specific instruction about how long the denture should be worn and when it should be removed.
Initially, you may be asked to wear your partial denture all the time. Although this may be uncomfortable at first, it's the quickest way to identify areas that may need adjustment.
If the denture puts too much pressure on a particular area, that spot will become sore. Your dentist will adjust the partial denture to fit more comfortably. After making adjustments, your dentist will probably recommend that you take the partial denture out of your mouth before going to bed and replace it in the morning.
Eating should become a more pleasant experience with dentures. Start out by eating soft foods that are cut into small pieces. Chew on both sides of the mouth to keep even pressure on both sides. Avoid foods that are extremely sticky or hard. You may want to avoid chewing gum during the adjustment period.
Partial denture can also help improve your speech. If you find it difficult to pronounce certain words, practice reading out loud. Repeat the words that give you trouble. With time, you will become accustomed to speaking properly with your partial denture.
Caring for your dentures
---
Your dentist can recommend a denture cleaner. Look for denture cleansers with the American Dental Association Seal of Acceptance.
When cleaning a partial denture, it's a good idea to stand over a folded towel or a sink of water just in case you accidentally drop the denture.
Do not use toothpaste since it can be too harsh for cleaning dentures.
Some people use hand soap or mild dishwashing liquid to clean their dentures, which are both acceptable. However, most household cleaners are too abrasive and should not be used for cleaning dentures.
Brush the denture each day to remove food deposits and plaque. The helps the denture from becoming permanently stained.
It's best to use a brush that is designed for cleaning dentures because it has bristles that are arranged to fit the shape of the denture. A regular, soft-bristled toothbrush is also acceptable.
Avoid using a brush with hard bristles, which can damage the denture.
Clean your dentures by thoroughly rinsing off loose food particles. Moisten the brush and apply the denture cleaner. Brush all denture surfaces gently to avoid damaging the plastic or bending the attachments.
A denture could lose its proper shape if it is not kept moist. At night, the denture should be placed in soaking solution or water. Your dentist can recommend the proper method for keeping your dentures in good shape.
Don't chew, swallow, or gargle with denture cleansers.
Always thoroughly rinse the denture before placing it in your mouth.
Adjustments
---
Over time, adjusting the denture may be necessary. As you age, your mouth naturally changes, which can affect the fit of the denture. Your bone and gum ridges can recede or shrink, resulting in a poorly fitting denture.
Dentures that do not fit properly should be adjusted by your dentist. Poorly fitting dentures can cause various problems, including sores or infections. See your dentist promptly if your denture becomes loose, and maintain your regular visits, too.
You can do serious harm to your denture and to your health by trying to adjust or repair your denture. Using a do-it-yourself kit can damage the appliance beyond repair. Glues sold over-the-counter often contain harmful chemicals and should not be used on a denture. If your denture breaks, cracks or chips, or if one of the teeth becomes loose, call your dentist immediately. In many cases, dentists can make necessary adjustments or repairs, often on the same day. Complicated repairs may require that the denture be sent to a special dental laboratory.
Fixed Partial Dentures
---
Partial dentures aren't the only option for replacing more than one missing tooth. If the missing teeth are adjacent to each other, a fixed or removable bridge may be a potential solution.
An even better, lifelong solution for replacing missing teeth is dental implants. These replace both the root of the tooth as well as the crown, so they are the only option that can prevent and even reverse bone loss in the jaw. In addition to single tooth implants, implant-supported bridges and dentures can also work to prevent bone loss, but they can be an easier and more economical solution than replacing each individual tooth with its own implant.
Fixed Bridge
For people missing one or two teeth, the fixed bridge could be the right solution. You can think of this as a permanent partial, as it remains in the mouth at all times, so you won't need to take it out. However, the main disadvantage of a fixed bridge is the surrounding healthy teeth must be filed down and prepared to accept the crowns to support it.
Implant-Supported Fixed Bridge
If you are missing teeth or you prefer not to damage any existing teeth, then the implant-supported fixed bridge could also work for you. This type of dental implant uses small posts made of biocompatible titanium and are permanently placed in your mouth. Although this procedure is expensive when you get it done, it's a good investment because this can last for life, and won't come with the durability issue you may encounter with removable partials.
Article sharing on social networks